Grow Beyond Your Limits
Meet THE HAIR GROWTH COLLECTION, a 2-step topical and ingestible hair care and scalp health routine backed by science.
Shop now
Build longer, stronger hair with THE HAIR GROWTH COLLECTION. A power pairing of topical and ingestible supplements that work together to help your hair grow beyond its limits. GROWTH PHASE works on the inside to support nutrition deficiencies and hormonal fluctuations that disrupt the natural hair growth cycle, while SUPA_THICK supports scalp health to reduce hair shedding and encourage new hair to grow.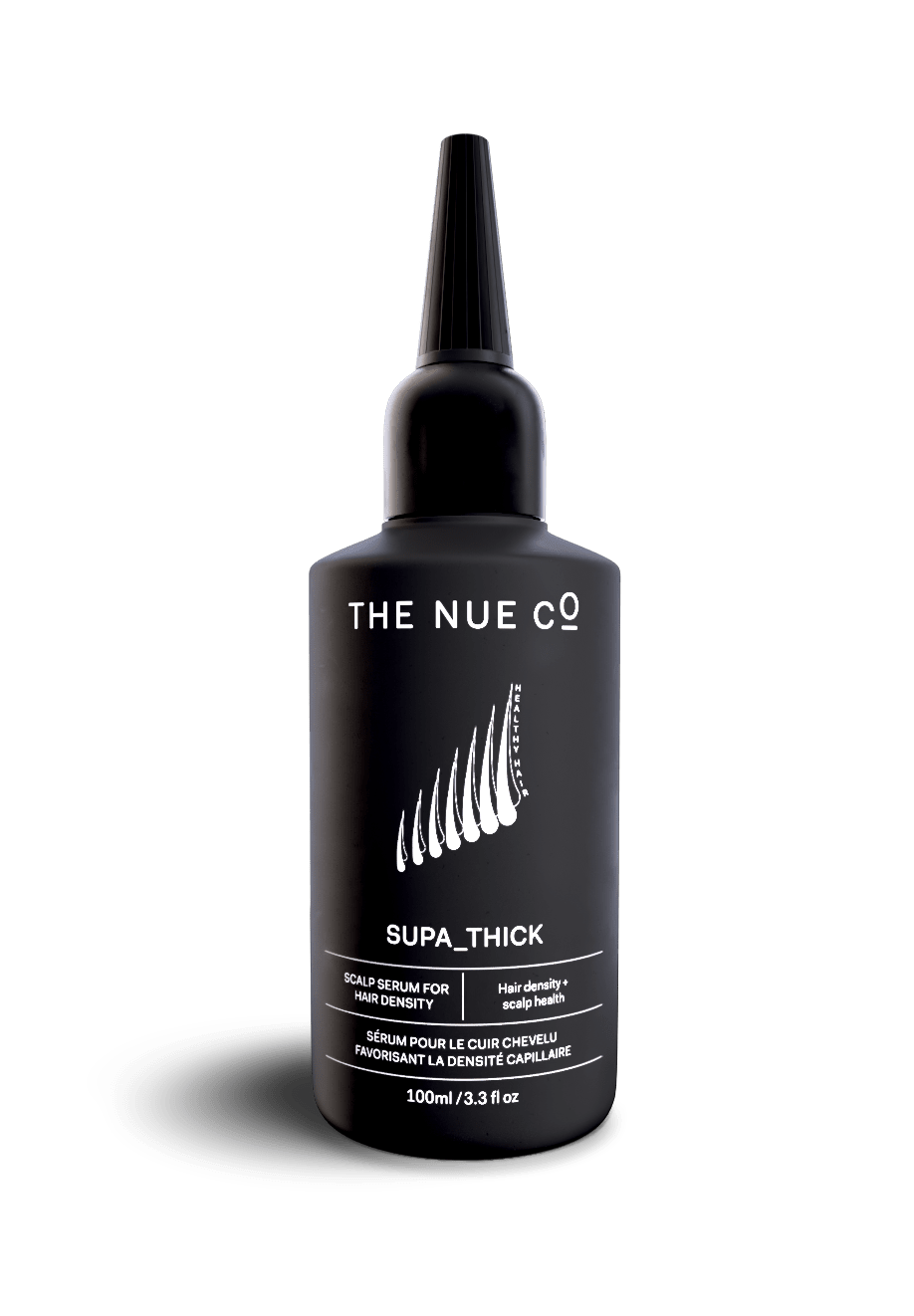 If you're tackling hair loss, breakage, or lack of growth, SUPA_THICK gets to the root of the problem. Formulated with patented follicle technology, it targets both the hair follicle stem cells and dermal papilla cells located at the bottom of the follicle, while prebiotics (inulin) and probiotics (lactobacillus ferment) repopulate the scalp's all-important microbiome. It also soothes a sensitive scalp, eliminates dandruff and removes product build up to reveal healthy, thick hair.
Taking a 360 approach to hair care, we made GROWTH PHASE: an ingestible supplement that's clinically proven to increase hair growth in 90 days. Your daily dose of key vitamins, proteins and adaptogens cover all bases when it comes to a healthy hair growth cycle. Balancing nutrition deficiencies, regulating hormones, calming stress and protecting against free radicals for longer, thicker, fuller hair.
Longer, Thicker Hair in 90 Days*
GROWTH PHASE capsules target hormonal imbalances, nutrient deficiencies and stress, all of which can cause hair loss. SUPA_THICK serum supports scalp health by clearing product build up and repopulating the topical microbiome, encouraging new hair growth right at the root.

*In an independent study
Shop now
CLINICAL RESULTS - THE HAIR GROWTH COLLECTION formulas work together to push hair from the telogen (hair loss) phase into the anagen (hair growth) phase.
Reduces hair shedding by 87%
Stress is a key cause for hair loss. Adaptogens reishi mushroom and eleuthero root extract support cortisol reduction, preventing stress from impacting the hair growth cycle.
---
90% experienced a reduction in hair breakage
Patented technology protects and soothes the follicle, boosting its metabolism and strengthening the hair shaft to cause less breakage.
---
90% said hair felt stronger and thicker
Clary sage oil contains a compound called linalyl acetate, increasing hair strength and thickness for longer, stronger strands.

FAQs
Yes, it is suitable for all hair types.
Supa_Thick contains clinically studied ingredients to help stimulate hair growth and reduce hair shedding. With consistent and prolonged use, Supa_Thick may help with postpartum hair loss, although results may vary. GROWTH PHASE is a nutritional supplement to support hair growth and improve overall hair health. With consistent use, GROWTH PHASE may help with postpartum hair loss. However, if you are breastfeeding please seek advice from your medical professional before use. We recommend checking with your doctor or medical professional before taking any supplements when pregnant or breastfeeding.
Yes, the product contains ingredients to calm and gently exfoliate the scalp which can reduce the appearance of dandruff. In addition, our clinically studied probiotic extract has been proven to visibly reduce dandruff in just 14 days.
Yes, however we'd recommend checking with your doctor or medical professional before taking any supplements when pregnant or breastfeeding.
Male hair loss and balding is caused by a host of complex hormonal and hereditary issues. The Growth Collection is not designed for male pattern hair loss.
We recommend using Supa _Thick The Growth Collection for at least 12 weeks to start seeing a change in your hair which will improve with consistent and prolonged use. Results may vary.